Sure, why not? I've been thinking about your advice to my pacing questions and my experiences with racing and training this cycle, and, despite going back and forth about things for awhile, I think my decision making process has finally reached steady state.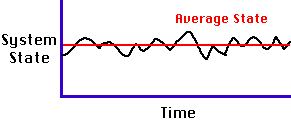 Time is the time since I started thinking about this and system state is now fast I plan to try to run the marathon.
As of 9/29 that average state is an 8:48 min/mile, aiming for a 3:50 finish. Which is to say that I've decided to run with the 3:50 pace group. If I'm feeling great at the 1/2 way point then I'll try to speed up.
So may race goals are as follows:
1. Enjoy the race. I've spent hours (days if you aggregate them) of my life working toward this one goal. I want to do my best and enjoy the experience regardless of my finishing time.
2. Finish in less than 4 hours. As much as I'd like to run 3:50, crossing the 4 hour barrier is what I care about most. It's like being a 40-something minute 10k runner or getting into the 1:40's for the 1/2 marathon. Sure there's a lot of variation in speed for all those times, but it represents a step up the amateur running ladder.
3. Run a 3:50. The plan is to go out with the 3:50 group. I'll speed up if I can and slow down if I have to, but I think this is smarter than going too fast at the beginning and trying to bank time (or pretending that I can actually run that fast for the entire race).
And there you have it. Lakefront Marathon race plans and goals 2010. I'm getting excited!